Boscarrelli 50 Fly Wine/ Prosecco
The Boscarrelli 50 Fly Vino "THE ORGINAL" the ultimate tool for the professional vinologist. We can deliver this wine version from € 15.850,- ex VAT
We can deliver this wine version from € 13,600 ex VAT
Product specificaties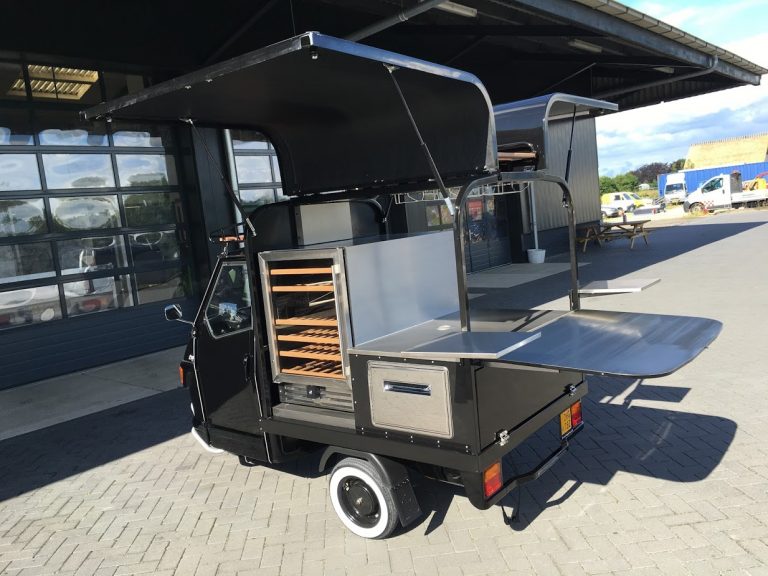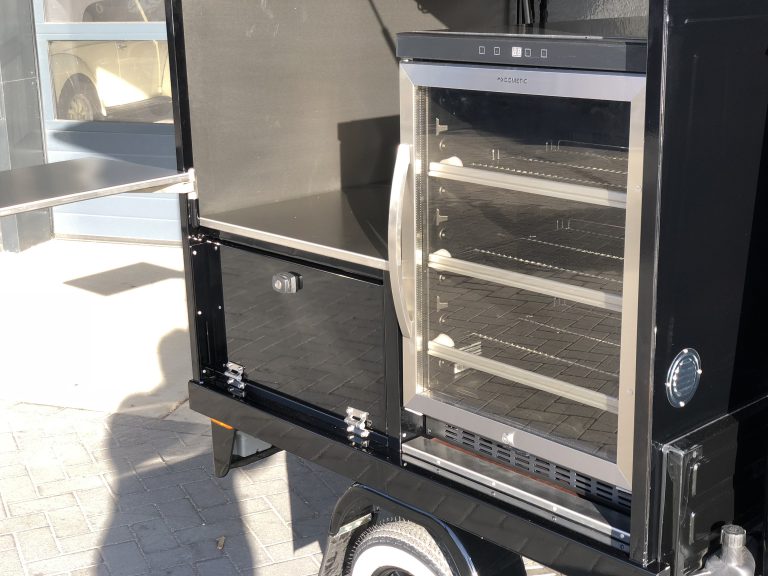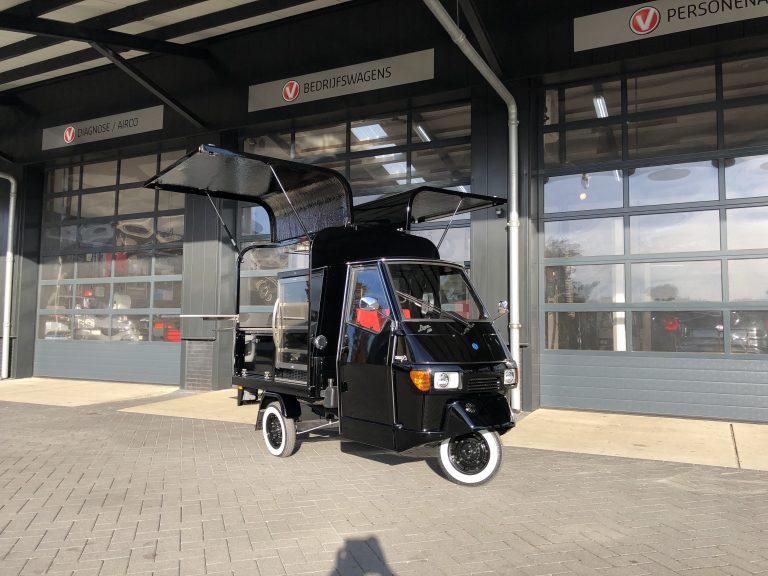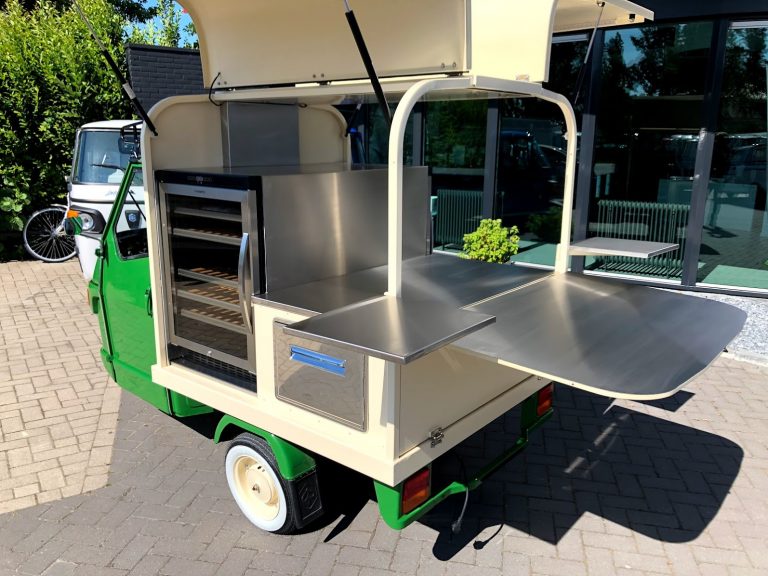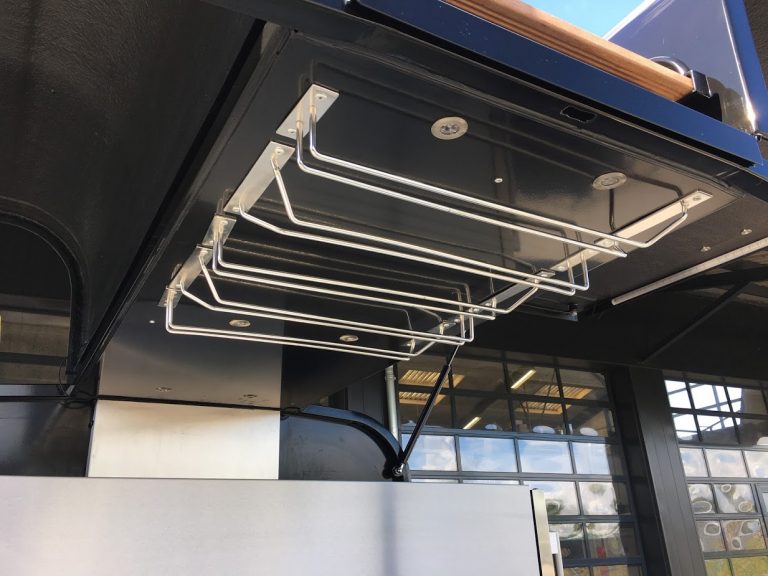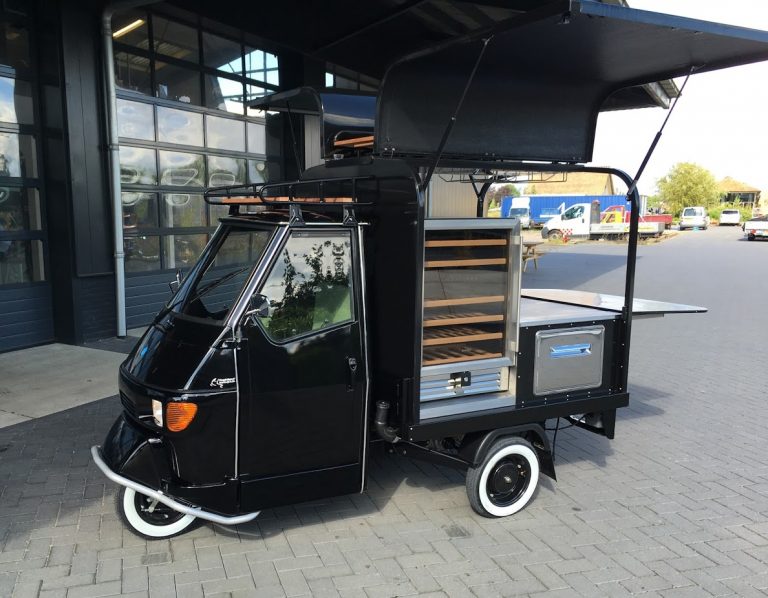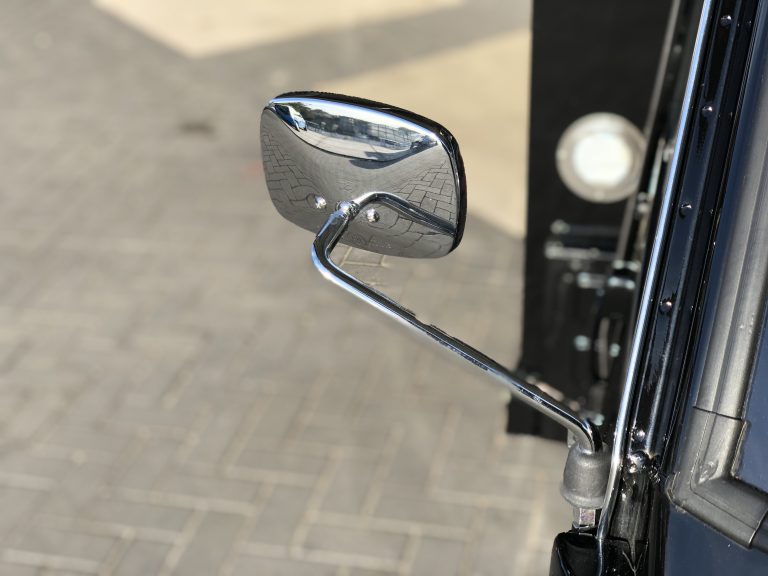 What is fitted as standard in the Boscarrelli 50 Fly Wine / Prosecco?
The following products are included in the Wine / Prosecco version
Adjustments for Wine Climate Cabinets
This package contains all modifications to the Ape to be able to assemble the Wine Climate Cabinet (s)
Wine climate cabinet for 46-60 bottles of wine
220V Wine climate cabinet which is suitable for 46-60 bottles. Optionally we can place a second identical Wine fridge on the other side
Reinforced springs
Reinforced springs for the extra weight of the body and accessories
Sockets and 10 Amp fuse box
220V Sockets, 2 above and 3 below worktop with 1 fuse box 10Amp
3D graphic design
We make a realistic 3D design especially for you
What can you order as an option?
We can also build in the options below. This is just a selection of the many possibilities
Lightning
Various lighting
By default you can choose between lighting in different places; in the ceiling of the superstructure. in the left, right wing or a combination of the possibilities. Of course your ideas are also welcome
Drawers, doors and additional equipment
Extra wine climate cabinet for 46-60 bottles
220V Wine climate cabinet which is suitable for 46-60 bottles
Luxury wine climate cabinet for 40 bottles of wine
Luxury wine climate cabinet which is suitable for 40 bottles. 2 doors per cupboard. Temperature range: 5 ° C-22 ° C (standard mode) or 2 ° C-6 ° C (cooling mode for drinks) Surcharge instead of standard cabinets
Cooling drawer Waeco CoolMatic, black or white, 30L
12 / 24v DC, energy efficient compressor cooling drawer. Temperature can be set to -2C
Stainless steel / Inox Cash drawer with lock
This beautiful drawer with a lock can also be used as a cash drawer. Cash register deposit can be taken separately
Side hatch 63x30cm with lock
We can make a hatch under the worktop (63cm x 30cm). Left or / and right side if desired
Stainless steel hatch under worktop
Stainless steel hatch under the worktop. This hatch can also be replaced by a drawer
Large stainless steel / Inox drawer
Drawer dimensions: 44x30x46cm WxHxD
Insulated cupboard incl. 2 insulated doors
We make an insulated stainless steel cabinet under the worktop, which we provide with an insulated stainless steel door on 2 sides. dimensions insulated cabinet 30x44cmx120cm, 158Liter
Glass hanging rack on the ceiling
Chromed hanging rack for wine glasses
Cup dispenser 2 pcs
In these cup dispensers you can store cups of 56-81mm
Cable hole with stainless steel / Inox rosette in worktop
Cable hole with stainless steel / Inox rosette in worktop
Tables
Side "hanging" table in stainless steel
Side "hanging" table in stainless steel, this can be attached to a corner of the ApeFly by means of a weld-on hinge. Up to 4 are possible
Weld-on hinge (suspension point for e.g. table)
Stainless steel welded hinge which is welded to the frame during construction. hinge can also be used for eg Beach flags or a Display
Rack for weld-on hinge
Rack which can be hung on a welded hinge
Water/ Sanitary
Stainless steel / Inox sink with tap (rectangle)
Stainless steel / Inox rectangular sink with tap and drain. 30x24x20cm
Water tank + pump and accessories
30 PSI water pump, 10.6 liters with pressure switch, pipes, taps and ± 45 liters water tank of clean water, filler cap and pipes
Waste water tank under vehicle, removable
With this facility, the dirty water is collected
Electricity and Mobility
Electric power 12v-230V 1000watt
When you choose this option, you are also mobile when no electricity supply is available. We mount a 1000Watt inverter with a 115Amp AGM battery which is charged by a 15Amp fully automatic battery charger Note: Max 1000Watt
Electric power 12v-230V 2000watt
Zelfde als de 1000w versie alleen nu monteren we een 2000Watt omvormer met een 115Amp AGM accu welke wordt opgeladen door een 15Amp vol automatische acculader Let op : Max 2000Watt
Electric power 2x 12v-230V 2000watt
Same as the 2000w version only now mount a 2000Watt inverter with 2x 115Amp AGM batteries which are charged by a larger 25Amp fully automatic battery charger Note: Max 2000Watt
Power connections and 2 x 16 Amp fuse box
220V Sockets, 2 above and 2 below the worktop with 1 fuse box with 2 separate groups of 16Amp
Color and appearance of the wine sales unit
Chrome frames and chrome mirrors
Chrome frames and chrome mirrors
Spraying of plastic parts of the cabin High-gloss smooth
For a more classy look, we can have all plastic parts on the cabin painted in the color of your choice
Front bumper, silver, black or color of unit
Front bumper, silver, black or color of unit
Stainless steel front for refrigerator drawer
For a more chic look, we can provide the cooling drawer with a stainless steel front
Spray the refrigerator drawer in RAL color
If the standard color white or black does not meet your requirements, have your refrigerator drawer painted in a RAL color as desired
Inside wing doors in a different RAL color
We can make the inside of the hinged doors in a different RAL color than the outside
Wheels and tires
White tire set of 3 pieces
To give your Ape that old look
Complete rim + hub in color
The complete wheel (the wheel hub + rim) powder coating in the color of your choice. Combinations of colors are also possible
Roofcarriers
Roof rack on cab
We mount this beautiful roof rack on the roof of the cabin
Roof rack on cab with wooden elements
Roof rack on cab with wooden elements
Roof rack on container with wood
Roof rack custom made with wooden
Other products
Rotatable support
With this support you can easily stabilize the Ape. Very important when, for example, you place a coffee machine on the Ape. This will level the machine
Roof support
Roof support for placing a parasol, for example
Parasol at the back
We can mount a half parasol at the rear of the Ape
Rain cover (price per section)
With this rain cover, which is easy to apply, you can stand dry in the rain. Example on photo consists of 2 sections
Motor adjustments
100cc Powerpack
Powerpack 100 and reinforced clutch Consisting of: 100cc Dr Cylinder and Piston which have been specially developed for the Piaggio Ape. 16 Tooth Pinasco sprocket for lower revs at higher speed and a Sito sports exhaust for more power. With this Powerpack 100 a speed of approximately 52km p / h is reached. * Note: Acceleration is only allowed on a Circuit, so officially not for use on public roads. Manufacturer's warranty always lapses when increasing * No rights can be derived from specified speeds, the final speed also depends on many factors such as tire pressure, weight, brakes
Conversion to electric drive with Lithium Battery
We have the Ape converted with a brushless 2.5 kW electric motor. The battery is of the Lithium polymer type and has a capacity of 2.75kWh, the low weight of 25kg makes it easy to remove and recharge at home, for example. The top speed of the electric Ape is 40km
Color of the Ape
Standard color
The Ape is available as standard in the following colors Black, White, Blue, Green, Orange, Red, Lime, Gray
Spraying cabin
The total price of the Ape includes painting the superstructure and the Piaggio in a standard color. We can also refinish the cabin with any desired RAL color. You can choose between spraying the outside of the cabin or spraying the inside and outside (completely) of the cabin. An additional cost is charged for spraying in a metallic or pantone color or spraying in two tone
Deze website maakt gebruikt van cookies om de ervaring te kunnen verbeteren. Je kunt ze hier uitschakelen: Cookie instellingenAkkoord
Cookies & Privacy Voorwaarden